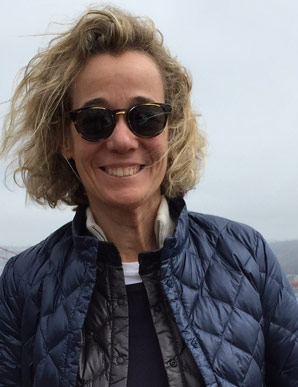 Biography
Martha Mitchell has directed over 250 episodes of night time television.  She is best known for her work on legal and crimes dramas such as Law and Order SVU, Bull and NCIS.  She has also directed medical dramas: Chicago Med, House, and Chicago Hope; and a number of family dramas: The Fosters, Bluebloods and Judging Amy for instance. Her most recent projects include  Netflix' YOU,  NBC's Law and Order SVU, CBS' Bull, and NCIS.
Martha has an outstanding reputation for her ease with actors. She also has unusually keen technical knowledge that covers camera angles, coverage, editing and stunts. She is comfortable with fight and dance choreography as well as with car chases and accidents. Her detailed understanding of those technical aspects of directing, combined with her respect for schedules, makes her popular with crews and production. Although she primarily works in New York and Los Angeles, she has enjoyed working on shows in Chicago.
Martha grew up in New York and Europe. She is a graduate of Barnard College and lives in New York City.
Further Reading
Filmography
Blindspot (5 Episodes)
Blue Bloods (2 Episodes)
Bull (2 Episodes)
Charmed
Chicago Hope (4 Episodes)
Chicago Justice
Chicago Med (4 Episodes)
Close to Home (2 Episodes)
Clubhouse
Courthouse
Eye Candy (2 Episodes)
Fame LA
Family Law
Haunted
House M.D. (2 Episodes)
Ironsides
Jericho (2 Episodes)
Joan of Arcadia (4 Episodes)


Judging Amy (6 Episodes)
Law & Order (16 Episodes)
Law & Order SVU (17 Episodes)
Leaving LA
Live Shot
Madam Secretary (4 Episodes)
Mercy
Murder In The First (2 Episodes)
NCIS (4 Episodes)
New York Undercover (5 Episodes)
Numbers (2 Episodes)
NYC 22 (2 Episodes)
Prey
Promised Land (3 Episodes)
Raising the Bar (2 Episodes)
Spy Game
Strange Luck


Strong Medicine (4 Episodes)
The Education of Max Bickford (2 Episodes)
The Enemy Within
The Division (6 Episodes)
The Fosters (4 Episodes)
The Guardian
The Mentalist (4 Episodes)
The Practice
The Protector
The Wright Verdicts (2 Episodes)
Timecop
Touched by an Angel (3 Episodes)
Unforgettable
Veronica Mars
White Collar
Without a Trace (10 Episodes)
YOU